October 19, 2020
Sandy Creek opens its doors to all
Originally published in The Bunyip on 23rd September 2020, by Liam Phillips. Link to original article is: https://bunyippress.com.au/sandy-creek-opens-its-doors-to-all/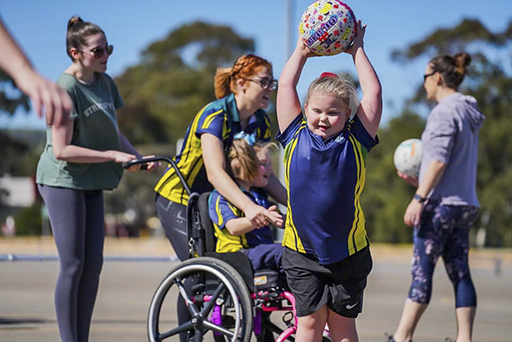 THE Sandy Creek Netball Club is now running a modified – or 'modies' – program to teach the game to the next generation, including children with disabilities.
The club has grown from one team in 2018, to two in 2019, before jumping up to four senior teams and three junior teams for 2020, making this the next part of the expansion of the growing organisation.
Sandy Creek A-grade coach Scott Hill said the program has grown far beyond what they thought it would be, and in a short period of time.
"It started out with only five or six little kids, and there was no real age limit," he said.
"We had a couple of three year olds come out with their parents, and then as the weeks grew, the numbers grew.
"At last count after the 10th session we had about 17, including three children with autism and two in wheelchairs which we're really proud of."
Sandy Creek player and modies head coach Madelin Jones – who has a background in working with children with disabilities – said it's been humbling to see the program grow throughout its 10-plus weeks so far.
"There's just so much social inclusion at the club, especially for kids that may have been turned away from traditional team sports," she said.
"We've been taking photos every week and putting them up on the Sandy Creek Netball Club Facebook page, and I think that's where a lot of the interest is coming from with other parents seeing it online.
"We're a young, growing club so it's still a big learning process for everybody, but it's so family friendly and I can tell the kids really enjoy that hour every Saturday morning."
Sandy Creek Netball Club's modies program runs from 11am-12pm every Saturday, and for more information visit, or message, its Facebook page.